Check here for details of our side events:
Monday 20 November – Workshops and Excursions
We have an amazing program of Workshops and Excursions lined up for Monday 20 November, prior to the official three day conference. See below for details of the program and links to register for each event.
These events are open to everyone, not just registered delegates to the conference. Please feel free to share them with your networks and anyone who might be interested!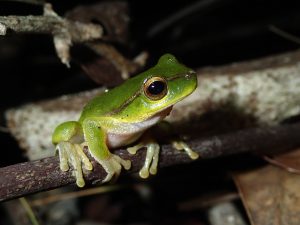 Frog Calls for Conservation: An Introduction to the National FrogID Project
This event is now at capacity, thank you to everyone who registered!
Monday 20 November 2023 6:30PM
Register on the Australian Museum website here
This event is free but spaces are limited; registration is essential.
Friday 24 November – Bonus BioBlitz Day
Friday 24 November is the first day of the Great Southern BioBlitz 2023! We'll be kicking it off with our Bonus BioBlitz Day. You can still register your interest in attending using this form.
What to do before the day
What to bring
A hat, sunscreen, water and mobile phone. Please bring your lunch or pick up something on the day.
How-To Sessions
We advise that you choose a half-day session to take part in – either in the morning or the afternoon.
Meet at UniSC outside the Innovation Centre for instructions at 9 am or 1 pm. Our experienced BioBlitzers will talk you through how to photograph and upload your sightings.
Choose a location
There will be several locations available. However, specific details are still being finalised. Please see the map of UniSC, the Innovation Centre and surrounding bushland areas below. We will let you know where our helpers will be on the day.
Please remember that there may not be toilet facilities at the bioblitz locations. All your activities at these locations will be at your own risk.
To help us keep track of everyone, we will ask you to write down your name, phone number and which site you will be visiting on a sign-up sheet when you arrive.