The Australian Citizen Science Association is a vibrant and growing community citizen science enthusiasts! Made up of both professionals and amateurs, ACSA membership is open to anyone who is passionate about citizen science. As an ACSA member, you'll be able to share ideas, pose questions, collaborate on projects, attend networking events and connect with people working, volunteering or fascinated in citizen science.
ACSA became the first association dedicated to citizen science in Australia with a Commonwealth Government grant from Inspiring Australia in 2014. One of our primary goals was to secure the long-term financial stability of the association. Paid membership helps us to achieve this goal!
Already a member?
If you're already an ACSA member and you would like to renew your membership, please go to this page to find out how to renew using our new membership system.
The "Sign Up" buttons below provide a prorated membership rate for new members and those re-joining after their membership expired.
Questions? Please contact us if you need help!
Looking for your Account Page? Login to your account here.
Joining us for the first time?
*Valid concessions include student, senior (60+), pensioner, or veteran. You may be asked to provide a concession card.
Note:
All fees are in Australian dollars.
Prices shown are inclusive of 10% GST. Memberships purchased from outside Australia are GST free.
Each member designated as part of an Organisational subscription (i.e. Small, Medium, or Large) will have access to all Individual Member benefits (e.g. conference discounts, voting rights at AGM).
You will be asked to sign-up with a username, email and password. If your email is already in use on our site, you'll be asked to login. Just use the "Forgot Password?" link to reset your password. If you don't have an active subscription in your account, come back to this page and try again.
Need an invoice?
Use the form at the bottom of the Membership Renewal page to join using an invoice, or get in touch using our contact page.
Membership benefits – full details

By paying for an ACSA Membership you will unlock access to an expanding range of benefits and opportunities:

Access to a community of like-minded citizen scientists and practitioners
Access to "members only" Facebook group and specific email updates
Discounted registration to conferences and events
Candidacy for a range of prizes, travel grants and professional development opportunities
The opportunity for coordinated promotion of your project across ACSA social media channels
The opportunity to contribute to the ACSA website and newsletter
The opportunity to comment on relevant draft policy and procedure at local, national, government and corporate levels
The opportunity to work with other ACSA members on events and initiatives (e.g. biennial conference)
Eligibility to be nominated for and elected to the Management Committee
Nomination and voting rights at Annual General Meetings and other elections
The opportunity to facilitate working groups and regional chapters
Organisations/Corporates: recognition on ASCA website
Free ACSA T-shirt!
We introduced a new membership structure in 2022. We now use date-based member periods and all memberships will commence 1 July and expire 30 June. We have prorated payment amounts to adjust for different membership periods.
Discounts with affiliated organisations
An affiliate discount (20%) is available to current, fee-paying members of the Citizen Science Association (CSA), the European Citizen Science Association (ECSA), or the Australian Museum. Contact us to request this discount and we will send you a link to subscribe.
Inclusive membership for all
In accordance with ACSA values, the Management Committee wants to ensure membership is available to anyone who would like to become a member of the Association. If you are unable to pay membership fees as a result of financial hardship or any other reason please Contact Us describing your circumstances. Your request will be reviewed as soon as possible.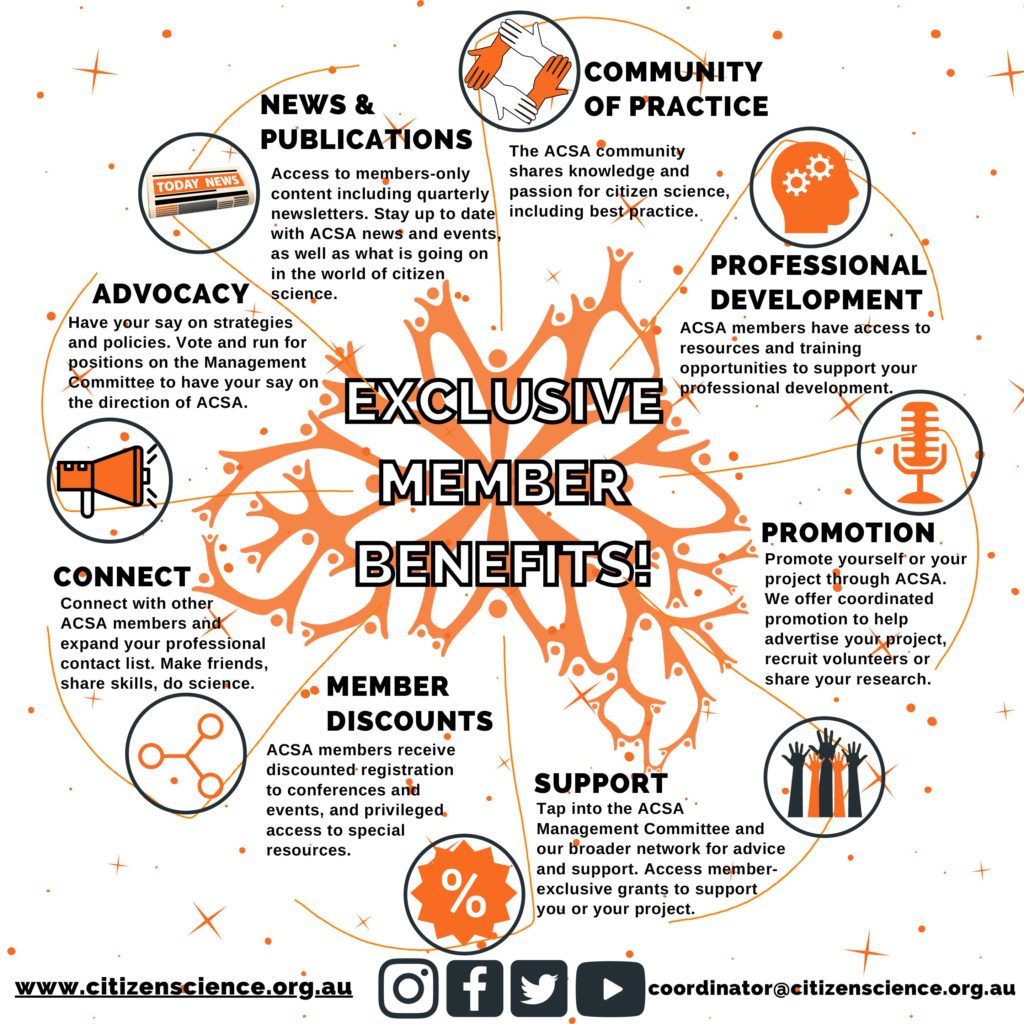 Refunds
Membership fees and donations to ACSA are normally non-refundable but if you have made an error or change your mind about supporting our organisation, please contact us.
ACSA is a volunteer-based association with committee members providing their time for free. Financial membership will enable us to grow a thriving community that will help to inform and develop citizen science across Australia.
Queries
Contact us with any membership or payment enquiries.
Shipping & delivery questions? Please view our Shipping & Delivery policy.
Organisational Members
ACSA is grateful to to be working with so many wonderful organisations. Click on the logos to find out more about our organisational members.