Each year ACSA is proud to offer two 'Seed Grants' as a way of giving back to and investing in our members. Seed Grant recipients are able to use the grant to help seed their professional growth, their project's growth or to pay for an open access publication of a citizen science paper. Winners of ACSA Seed Grants not only get a financial boost, they also gain exposure for their project and / or organisation via the ACSA website, newsletter and social media channels.
The ACSA Seed Grants are generally launched in August / September of each year, and are awarded in October / November. For more information on how to enter and the eligibility criteria, please scroll down.
Past Winners
2021 – 2 x $1,000 grants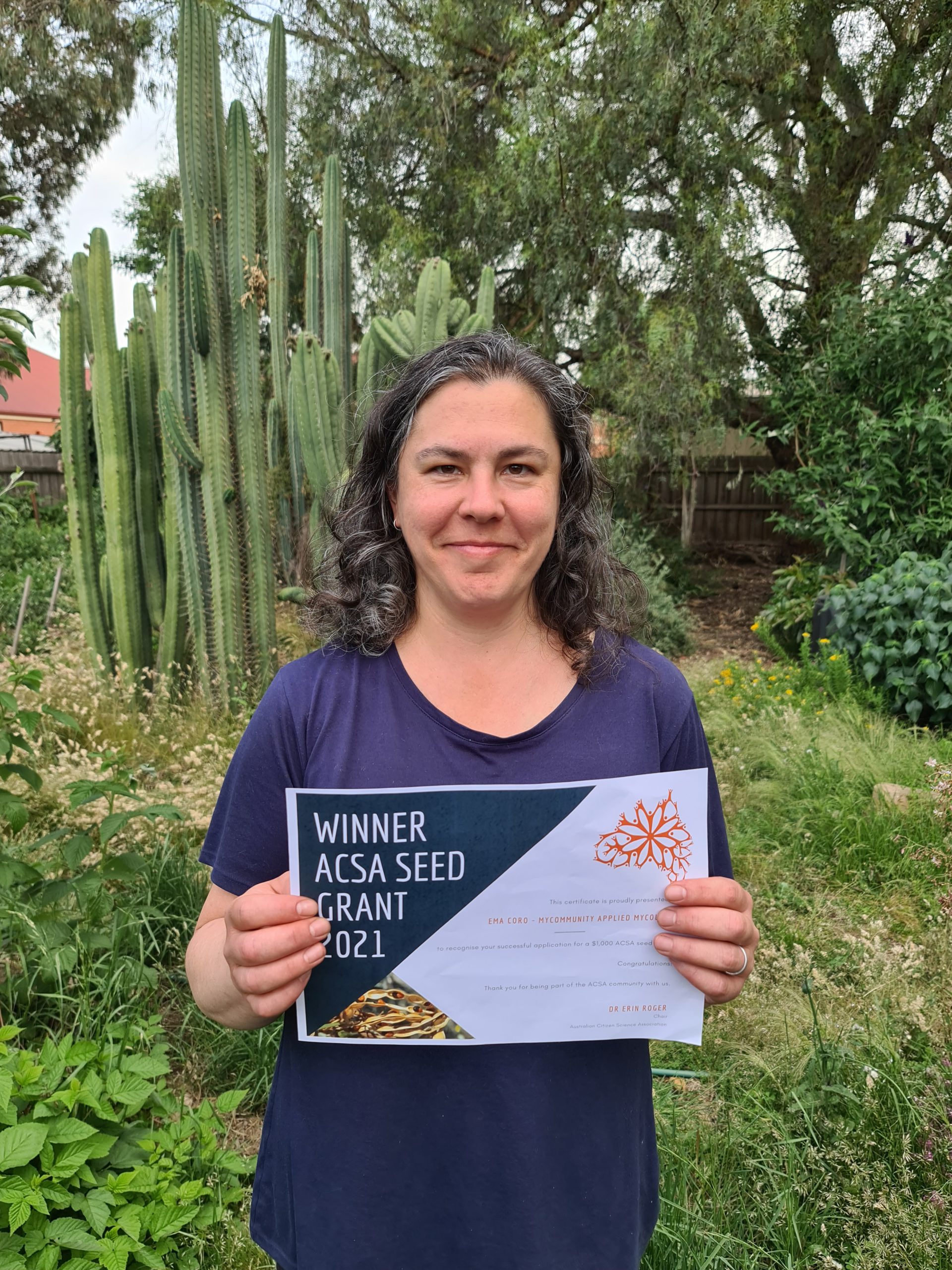 Ema Coro
MYCOmmunity Applied Mycology
Funding to train volunteers in taking herbarium specimens of fungi, the use of basic laboratory equipment and in techniques related to environmental DNA and DNA sequencing.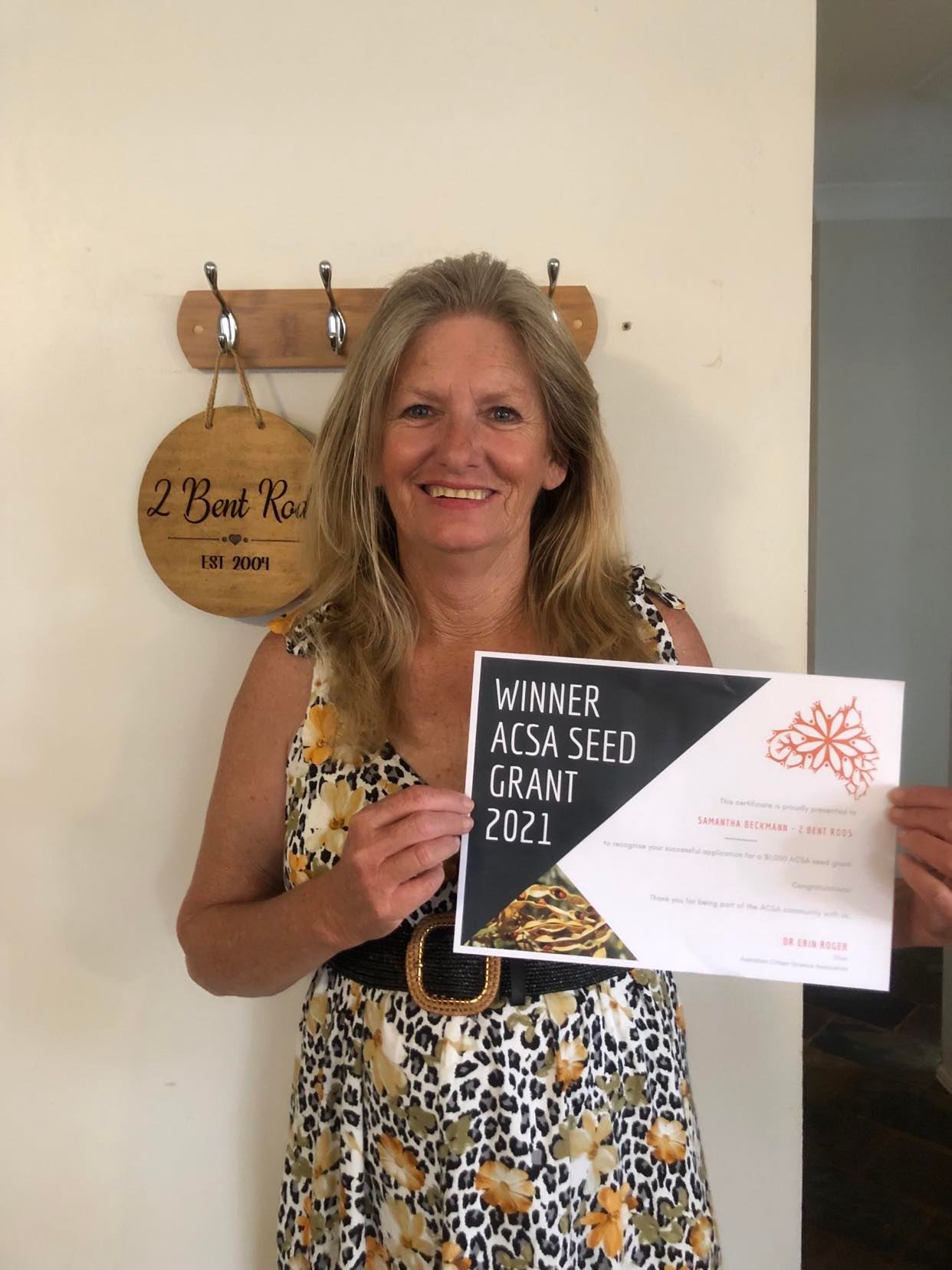 Samantha Beckmann
Two Bent Rods
Funding the development of a video & QR code flyers to promote the free fishing app to recreational & professional fishers to encourage them to upload photos to collect data about the size/health of fish.
2020 – 2 x $1,000 grants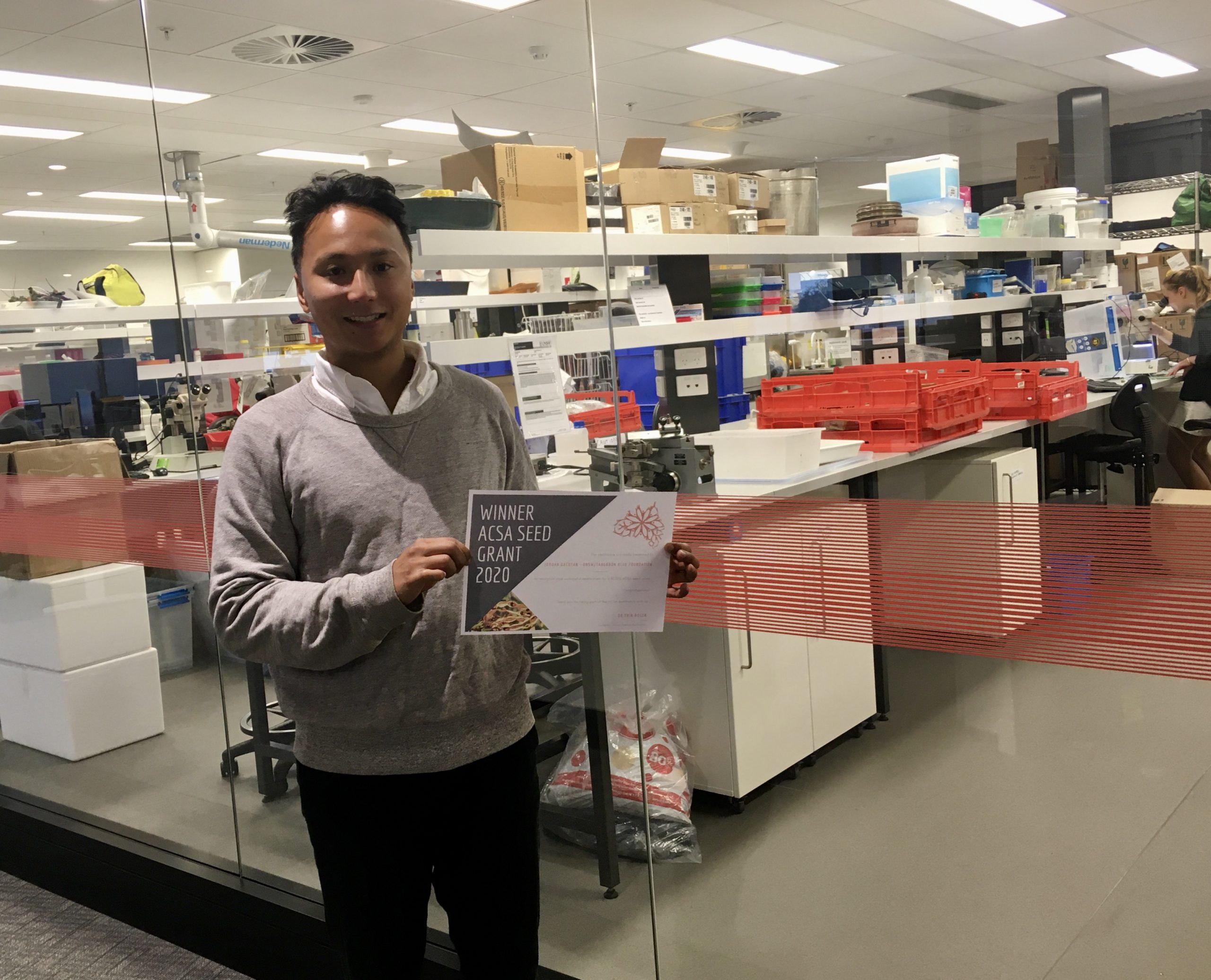 Tangaroa Blue
Production of a 5-part video series on scientific sampling and its utility in marine debris monitoring.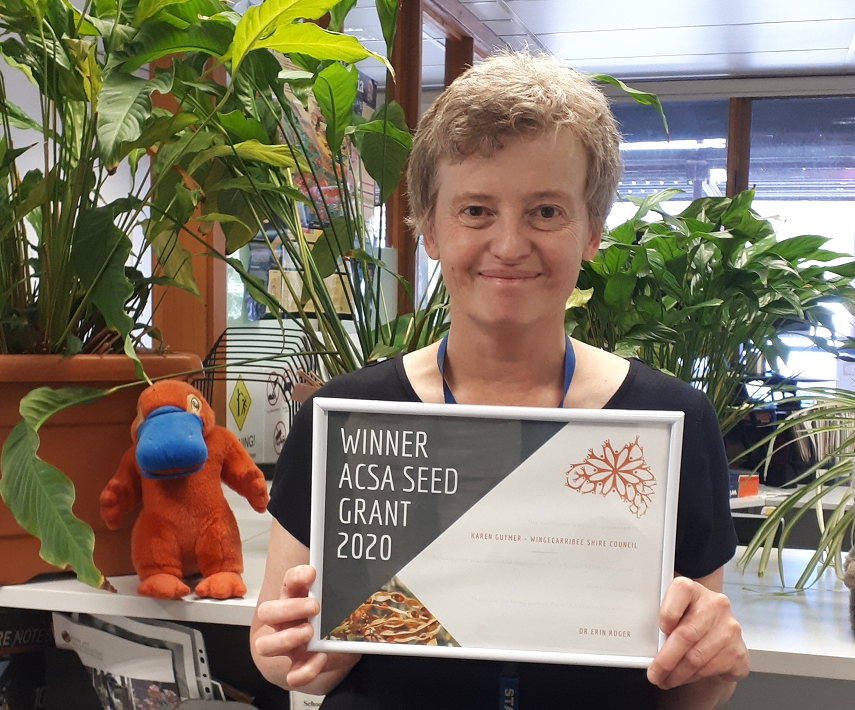 Wingecarribee Shire Council
Funding professional development and training for council staff in the Rapid Appraisal of Riparian Condition (RARC) monitoring.
2019 – 2 x $1,000 grants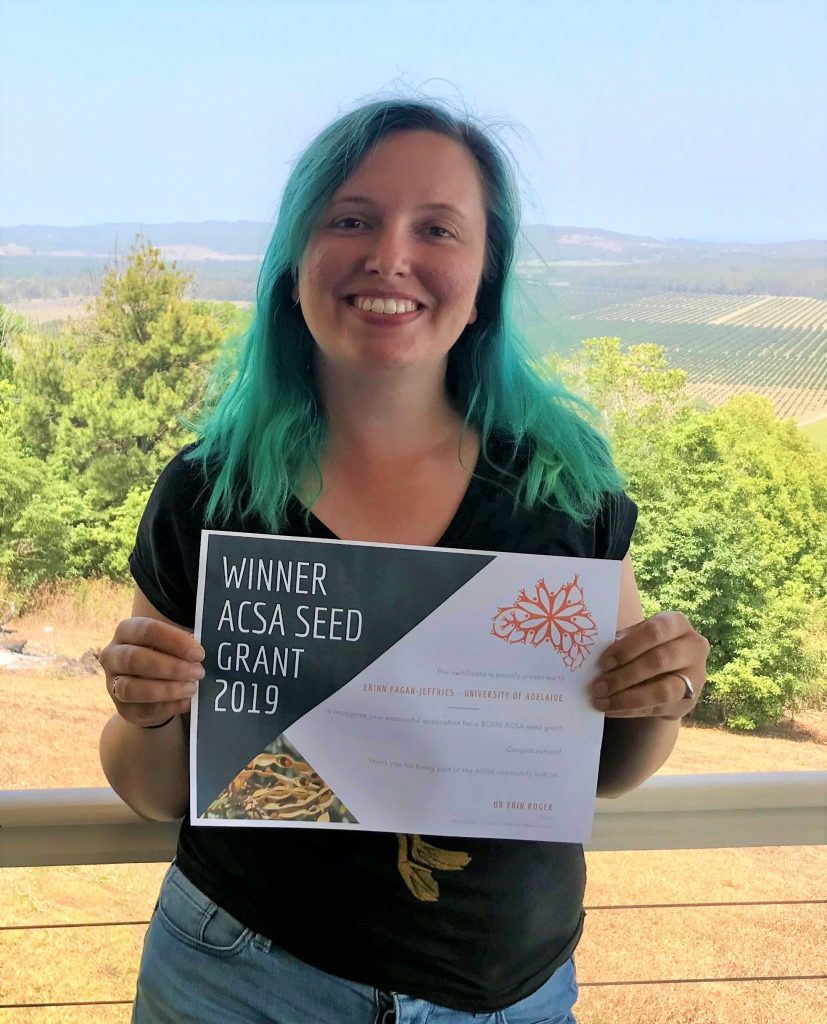 University of Adelaide
Funding four trials of a citizen science project connecting school groups to the process of species discovery.
The Bacchus Marsh Platypus Alliance
Beginning a citizen science project on platypus habitat health, including purchase of water monitoring equipment.
2018 – 3 x $500 grants
Bellingen Riverwatch
Printing of training manual which covers all aspects of water quality testing, care of kit and WHS protocols.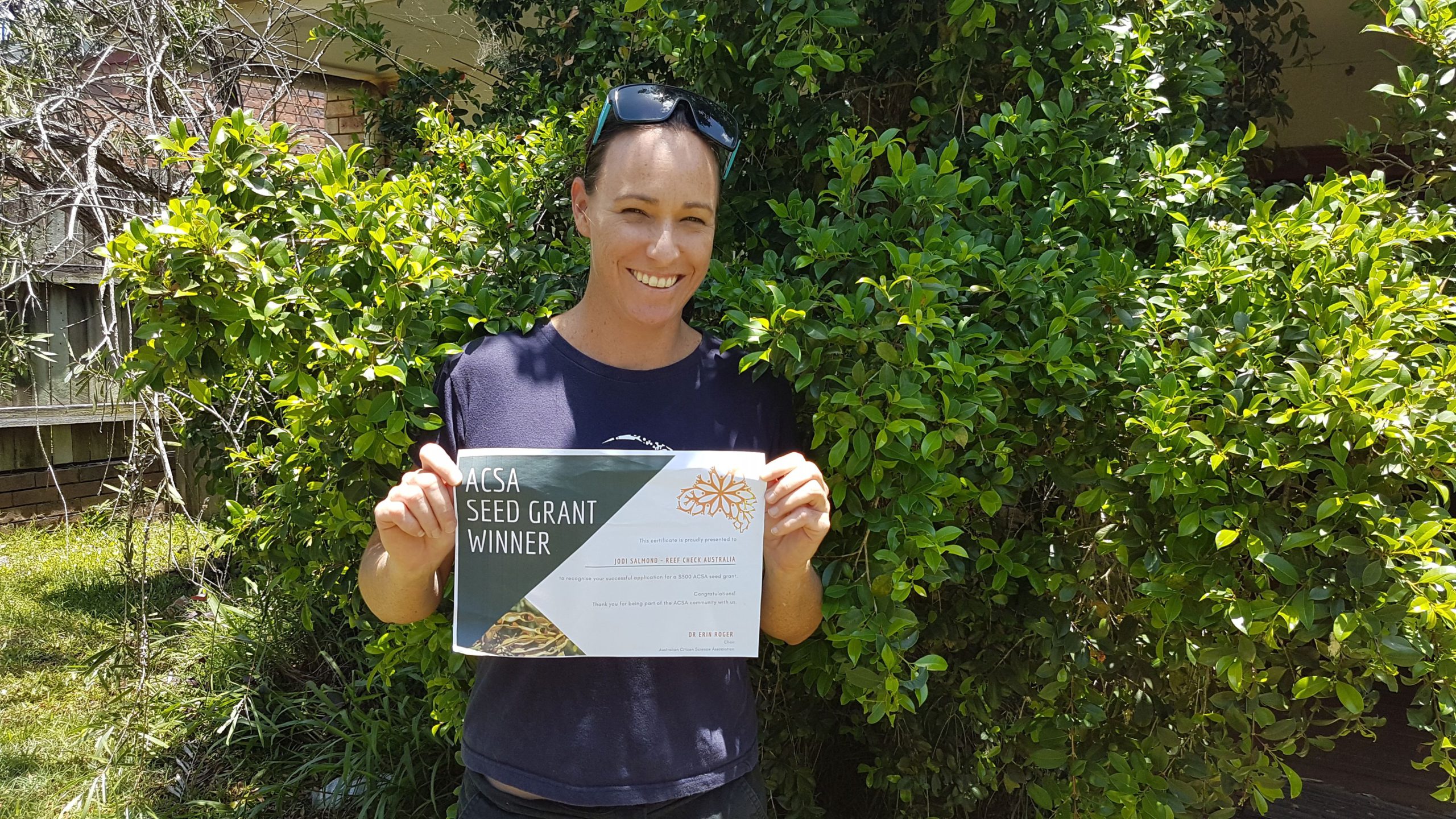 Reef Check Australia
Life coaching/mentoring to work more effectively with volunteers.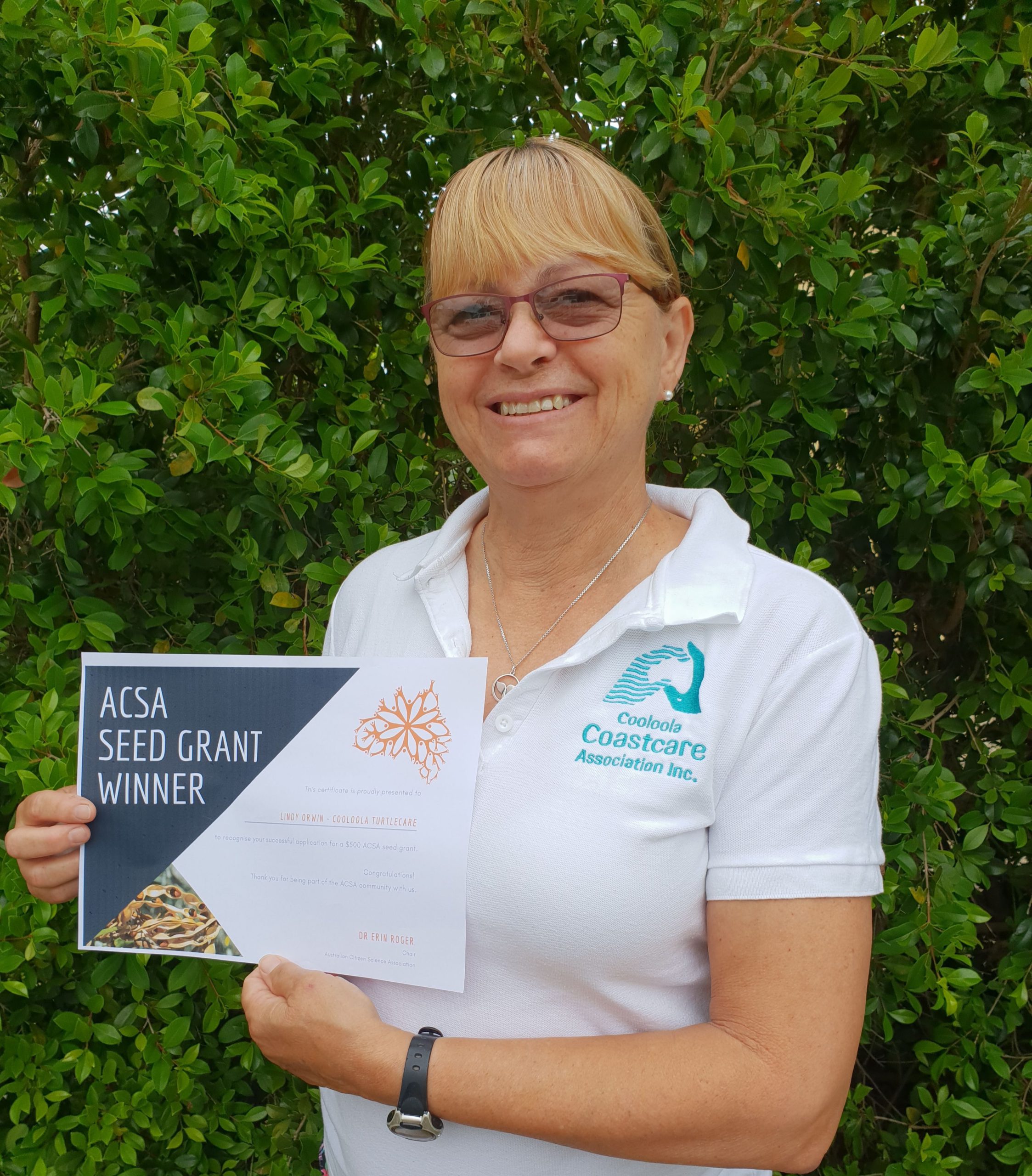 Cooloola TurtleCare
Training for a Cooloola Turtlecare representative to be a certified carer to manage strandings, rescues, nest relocation, recruitment and training of volunteers for daily fieldwork as citizen scientists.
Who is Eligible?
To be eligible for Seed Grant funding, you must be a current, financial member of ACSA. Not a member yet? Click here to join.
Entry Criteria
Seed Grant applications must align with ACSA's strategic goals of Participation and Practice.
Participation – Encourage & promote broad and meaningful participation of society in citizen science so people become partners in creating science & increasing science literacy.
For example (but not limited to):
Activities that encourages participation in a citizen science project, could be a workshop, an event or a school outreach program or an app.
Development of a citizen science project that aims to meet these goals
Resources or training for citizen scientists participating in a project you run
Practice – Support the development of tools, methods, infrastructure, and resources to strengthen the practice, use and study of citizen science.
For example (but not limited to):
Attendance at a relevant course or event, such as a conference. Can include registration, accommodation, flights etc.
Development of tools or infrastructure that aims to meet this goal.
Publication of an open access citizen science paper.
How to apply
Complete the Seed Grants Application Form when the grants are announced.
Please note, applications should be kept short to reflect the value of the grants. A maximum character limit applies to each judging criteria.
Judging criteria
Applications will be judged on the applicant's response to the following:
Short description of proposed activity (maximum 200 characters).
Context or background to your proposed activity (maximum 1500 characters).
Detailed description of how the Seed Grant will be spent (maximum 1000 characters).
In what way does your proposal address ACSA's strategic goals of Participation and Practice (maximum 1000 characters)?
Describe the expected outcomes and benefits of your proposed activity (maximum 500 characters).
Brief timeline for the delivery of your proposed activity (maximum 500 characters).