By Geeta Ortac, Bellingen Riverwatch
I still remember the excitement when I saw the email from ACSA announcing an opportunity for a small grant. The timing couldn't be better! Bellingen Riverwatch was gaining momentum and we really needed support to print out some good quality copies of our volunteer training manual.
Bellingen Riverwatch is a water quality monitoring citizen science project supporting recovery actions for the critically endangered Bellingen River Snapping turtle (Myuchelys georgesi). These manuals were incredibly important as they served as an ongoing reference and training guide for our volunteers. The manuals aided data collection and ensured volunteer safety at sites. As the manuals were intended for frequent use (mostly in outdoor settings), it was recommended that they should be printed and bounded with good quality materials to withstand wear and stand. Long-term cost savings were a big consideration too. Better quality manuals meant lesser damage, hence lesser need for reprinting.
The training manuals have since been printed and distributed to our volunteers in May 2019. The funding supported production of 16 copies with six more to go. The final six copies will be placed in the water quality kits. I was informed by our Project Coordinator, Amy Denshire (from OzGreen), that the manuals received numerous positive feedback from the volunteers. I think the pictures say it all.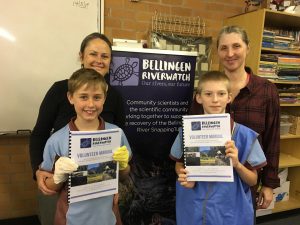 I want to thank ACSA for this wonderful funding opportunity. It definitely brought some great benefits to our Bellingen Riverwatch project. For more information about Bellingen Riverwatch, please visit this page.