By Rob Pederick, ACSA member and grey nomad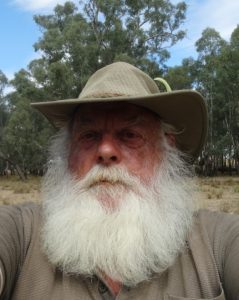 Now the tent poles are rotting, the campfires are dead,
And the possums may gambol in trees overhead;
I am humping my bluey far out on the land,
And the prints of my bluchers sink deep in the sand:
I am out on the wallaby humping my drum,
And I came by the tracks where the sundowners come.
From 'On the Wallaby' by Henry Lawson.
G'day there, my name is Rob Pederick, but these days most people call me 'Dusty'. I am a member of ACSA and an amateur entomologist. Most of my working life was spent on farms working with animals and I even had a go at zoo-keeping for a while. When I was a young bloke, many, many years ago, I spent a lot of time knocking around the bush and I have had a crack at most farm and bush jobs, although I am the world's worst shearer. I am retired these days and like to refer to myself as a 'Retired Gentleman'. For a few years now I've been travelling around the country with my old Hilux ute, towing my even older caravan and being a sort of 'Grey Nomad'. I sometimes have my old yellow dog with me, but his arthritis is getting to him a bit these days, so I have to leave him at home. In these articles I will try to tell you some stories about those travels, some funny and some a bit sad.
When I am out and about, I like to find 'free camps' which are well away from civilisation. But doing this sometimes causes a few problems, like communications. All my gear is through one provider; I won't mention any names here, but it has to do with a 'little puddle'. And another thing is that I seem to spend a lot of my time, just living. Cutting firewood, cooking and all those other household chores that one has to deal with. I also spend a fair bit of time trying to identify all the species of fish in the local rivers (and find out which ones are edible), but I practise 'responsible fishing' because I don't often catch many. Because I have been away so much lately, I haven't become involved in many ACSA projects but, when I have some time (and communications) I like to do some digitising for DigiVol, and I am always on the lookout for interesting wildlife, which I try to photograph and send off as sightings to the Atlas of Living Australia. All that is more than enough to keep an old bloke pretty busy, but anyway, on with the yarns.
Now, on one occasion I was at a place called Cobbold Gorge, out in the middle of Queensland somewhere. A really nice spot on a big cattle station, with a great camp ground, a restaurant and bar, and even a swimming pool. It just so happened that this was the night of the 'State of Origin' thugby match and the restaurant had put on a 'pie and chips' night and everyone was crowded around the big TV in the dining room. At one point I decided to go outside for a breath of fresh air and to give the nicotine levels a bit of a boost; I'm not really that interested in thugby anyway.
I wandered out the front door and there, on the road, just outside the verandah was the biggest Brahman bull in Queensland. As I passed him I said 'G'day mate', very politely as you do when you are face to face with a big bull. I stood watching him while I had my smoke and I could almost see the thoughts going around in his tiny brain. 'If he can go in there, so can I. I wonder if they have any chips left. I wonder what the score is, I hope Queensland wins'. By the time I went to go back inside, he had his front feet up on the verandah, so I said to him 'I wouldn't go in there if I were you mate, they mightn't like it'.
But he ignored me and followed me inside. Well, he got as far as the bar, which was only a very narrow space and he couldn't turn around in there. There was an awful lot of panic in the place, and a couple of the stockmen came and tried to get him out. But, have you ever tried to make a big bull walk backwards, even if he wanted to? It's a bit like herding cats really. After a lot of pushing and shoving, and a fair bit of poking and prodding, they managed to get him outside and to take him away and lock him up so that he couldn't return. I noticed on my way back to the van that he had broken out again and was calmly mowing, and fertilising, the lawns beside the swimming pool.
On another occasion I had been camped at Cobbold for a few days recuperation when I discovered that I was almost out of my medications. I had decided to move on anyway, and as I had to pass through Georgetown on my way, I thought I would pick them up there. I got to Georgetown and drove around, looking in vain for a pharmacy. I pulled up outside the general store, hoping to find something there. Outside the store I met up with the local constabulary, and I asked them where the pharmacy was. 'There isn't one,' said cop one. 'Where is the nearest then?' I asked. 'Normanton that way, or Ravenshoe that way,' replied cop two. 'But you can get them to bring them back on the bus,' said cop one. This was on a Tuesday morning, and then cop two said, "the next bus isn't till Fridee….but.' It seems that everything in that part of the world happens on 'Fridee.' If you go into a store on a Monday and ask for a loaf of bread, they will tell you that they have sold out and the next truck doesn't come till 'Fridee….but.'
So, while I was having a coffee and smoke to calm my nerves a bit, I came up with plan 97B….but. Now, I had been planning to backtrack a bit here and head for the gemfields out the back of Mt Surprise to do a bit of fossicking for some topaz. So plan 97B was to head out to O'Brien's Camp, set up and then head for Ravenshoe first thing the next morning. The road out to O'Brien's was a bit rough here and there and there were cattle everywhere. You can tell a track is 'a bit rough' when there are termite mounds growing in the middle of the road, some of which are so big the cattle use them for scratching posts. But I made it to the camp without breaking anything.
I pulled up outside the gate and strolled over to the office. There didn't seem to be anybody around but there were a few dusty old utes, all with their bonnets up. Next thing, there was the loud sound of compressed air and then a head appeared out from under one of the trucks. The head belonged to a little 'older' lady; she was dressed in shorts and T-shirt and boots that were nearly as big as she was, and she was covered from head to toe in dust. She was all of four feet, thirteen and a half inches tall. She explained that she had been cleaning all the air filters on the trucks.
I paid for a couple of nights and set up camp beside a rather strange looking tree which had fruit all over it. I thought it was strange because the birds hadn't touched any of the fruit. I discovered that it was called a 'quinine tree' and the fruit was edible, but it was so astringent and bitter that even the birds wouldn't eat it. I was up early the next morning and headed off on my 400km round trip to Ravenshoe, just to pick up a few pills. I was back by lunchtime and stopped for a quiet Carlton spa-water at the local hostelry, and that was another experience in itself. And I didn't find any topaz; most of the area is taken up by mining licences, but the thoughtful council have set aside an area for fossickers and prospectors, but that had been so well dug up over the years that you could have planted a crop of wheat in it.
Now if you happen to be out and about in this beautiful big country of ours, at a community event or maybe even an ACSA conference, and you happen to see an old bloke called Dusty, make sure you come and say g'day. We can share a few yarns, and perhaps we can chat about what more we grey nomads can do out there on the road, to help advance citizen science in Australia.
Dusty.