By Michelle Neil
At the end of March 2019 I had just returned from the USA Citizen Science Association's Conference in Raleigh NC and I had just submitted my ACSA blog about my adventures. I was still buzzing about everyone I had met, the sheer volume of people (over 800!) that were at the Conference and how well citizen science was presented plus the funding and grant opportunities and global collaborations that we talked about.
Yet back in Australia, I was frustrated.  Despite the Australian Citizen Science Association's (and my) best efforts, many Australians still didn't know what citizen science is or how anyone can contribute to increase scientific knowledge.
My husband, John, overheard my grumbling and, with the latest Australia Post Stamp Bulletin in hand, said, "You know what you need to do? You need to suggest to Australia Post to make a citizen science stamp! They have a website address in the Stamp Bulletin where you can enter your suggestion."
What a cool idea, I thought. As kids, my husband and I both collected stamps. My husband is still a keen stamp collector or philatelist.  Stamps are collected all around the world as they represent cultural, historical and significant times, places, attitudes and events with often intricate, beautiful designs.
I grinned, jumped online and, taking note of the theme requirements, filled in the form as me, a keen citizen scientist of Australia.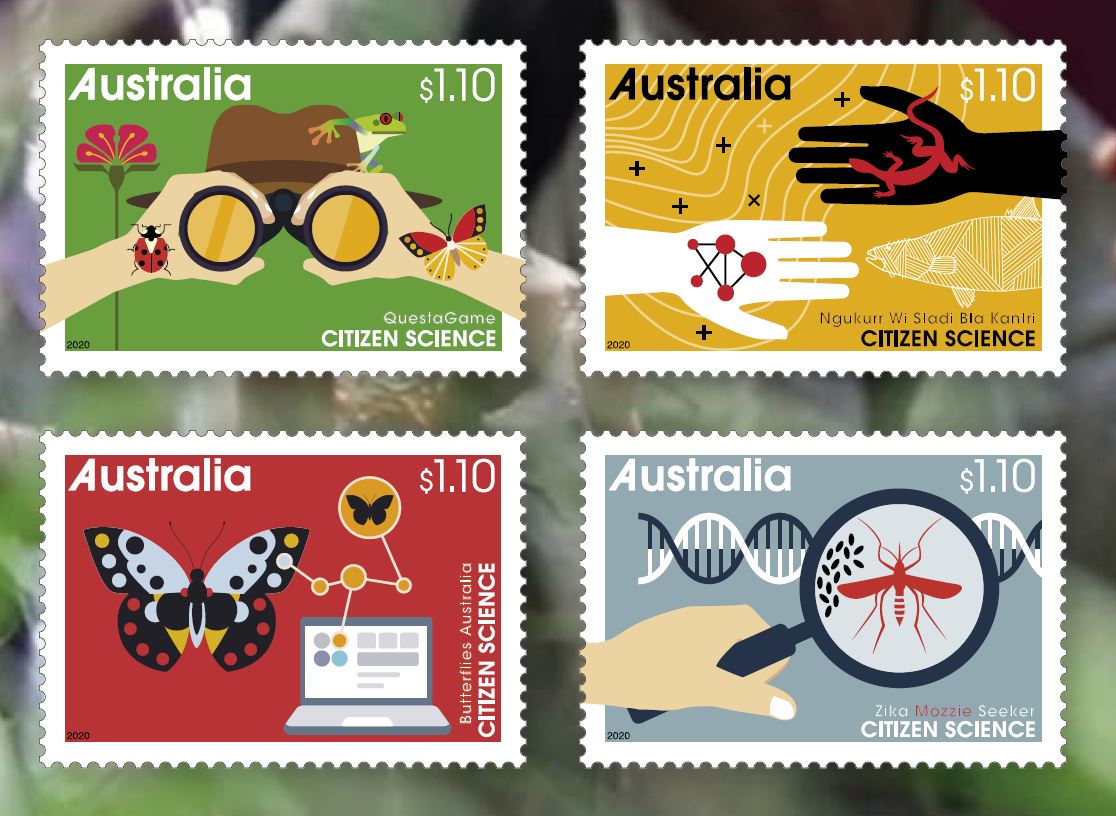 Imagine my surprise and delight a few days later when our ACSA National Coordinator, Amy, forwarded a query from Australia Post asking to do a series of citizen science stamps…  and it was forwarded to me, as Secretary of ACSA, to respond too! I rang the contact from Australia Post to introduce myself and explain that I was actually the one that sent the original suggestion and to make sure there was no issue of conflict of interest – which there wasn't (phew!).
My first task from Australia Post was to send them an email explaining:
what is "citizen science" for their researchers,
the different types of citizen science, and
to give examples of citizen science projects and why they were innovative / important.
The response to this task was perhaps one of the longest emails I have ever written with well over a dozen uniquely Australian citizen science projects suggested, each with justification, plus the link to more than 350 more projects on the Project Finder for their researchers to browse as well.
After two weeks my Australia Post contact let me know that they had chosen to feature not one, but a set of four citizen science projects on stamps to launch in the first half of 2020. Those projects were:
After this announcement I was asked to contact the citizen science project managers and ask for their agreement. Each of the managers were asked to provide some details, in their own words, about what their citizen science project was about and how citizens contributed to the research. The researchers were trying to get a feel for the science as well as the citizens that contributed. Artist Jonathan Chong was then asked to do some preliminary sketches and give a few options to our project managers. This went back and forth for several months until the final stamp designs were approved by all.
I learnt quite a few things about science communication and organisation during this time as I was the go-between for so many groups:
It is important to have only one contact for each group or I get people mixed up in my head (not good!).
Just because I wanted the stamps to come out in Global Citizen Science Month (April) doesn't mean it happens (oh well).
Kriol is not a traditional indigenous language, but rather one spoken as a form of hybrid language across northern Australia – and someone has even translated Shakespeare to Kriol!
Mosquito eggs don't look like frog eggs. They are not round but rather more cigar shaped (seriously – look closely at the stamp!).
Citizen science look fun as a cartoon on a stamp!
Just because you have finished the stamp designs doesn't mean its over yet – there are still first day covers, stamp packs and more to design!
This stamp series, besides from being the first ever citizen science stamps in Australia, has a few other "firsts" in it as well. For example, butterflies have never been portrayed on an Australian stamp as anything other than a picture depicting actual colouring, wing shape etc – until now. This will be the first time the Kriol language will be used on a stamp – technically an Australian Government approved piece of paper winging its way around the world!
It really boggled my mind when I sat down and went through how many people and organisations were involved and how many citizen scientists and scientists too! For example, QuestaGame has thousands of citizen scientists all over the world and is based in Cairns!  Zika Mozzie Seeker has hundreds of citizen scientists but the results it produces can affect millions in Queensland and beyond.
Finally, in February 2020 we finished all the designs and approvals and the stamps were sent to the printers. I was so excited when the latest Stamp Bulletin came out in late April. You can find out more about the stamps on pages 14 – 16. The first Australian citizen science stamp sets available from the 19th of May 2020 at Australia Post and you can explore them here.