ACSA-WA member Dr Tegan Douglas was thrilled to be able to present to the Lesmurdie branch of the University of the Third Age (U3A) earlier this month. True to the Noongar season of Makuru, the weather was cold and blustery, but not even hail was enough to stop this group of curious minds and life-long learners from gathering at Falls Farm in Lesmurdie to hear about how easy it is to get involved with citizen science.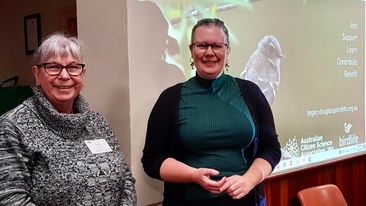 Photo courtesy of Heidi Pember
Tegan introduced the group to ACSA, demonstrated how citizen science worked, and the benefits that science and society can get from it. Using her background in bird conservation, she drew examples of how the power of citizen science can track population trends in native and introduced bird species, and how that knowledge can then trigger powerful conservation actions. She showed how data showing the decline in Australasian Bittern led to the purchase of a wetland critical for their conservation, and how engaging wildlife photographers enabled tracking of Australian Fairy Tern populations and encouraged ethical photography practices in the community.
She included some examples of local projects to get involved with, appropriate for the wet weather. She showed the irreplaceable value of being able to contribute data from your own patch, such as to the WA Museum's Snail Snap project, and how you didn't need to be an expert to contribute, as projects could teach you as you went, like the Australian Museum's FrogID project. As the weather really was for the ducks, Tegan shared some resources for projects that could be contributed to from the comfort of your own home, and how you could stay cosy and dry and use ACSA's Project Finder platform to make plans for when the rainclouds clear.