Name: John Busby
How long have you been an ACSA member?: Since November 2017
Why did you join ACSA?: I strongly believe that a scientifically informed and engaged community will enhance both the environment and society.
What do you love about citizen science?: The opportunities to engage with like-minded people, research scientists and government officials in projects that make a difference.
What is the most awesome citizen science project you have been involved in and why? My partner had developed an interest in orchids and enjoyed discovering these in our local nature parks, without any plans for taking her hobby further. In early 2014, we learned that a prescription burn was planned for our local nature park, in an area that is extremely rich in orchids, including some designated rare species. We wished to protect some of these from the burn, but the ACT Parks and Conservation Service (PCS) were unaware of these orchids, as no data was available to them at the time. With the help of the local ranger, we arranged to get these areas protected. We then realised we had an opportunity to do more and this has led in unexpected directions:
Following negotiations with ACT government ecologists, we agreed on a monitoring protocol and have conducted monthly recording of matching burned and unburned plots since September 2014.
Inspired by the ease-of-use and capability of NatureMapr, through Canberra Nature Map, my partner has now uploaded more than 1500 records of orchids and many other species.
I am organising data recorded by a group of orchid enthusiasts from December 2000, with over 550 records entered so far.
The records in Canberra Nature Map are increasingly used by ACT government officials for their planning and management, so it is much easier to make the case to protect sensitive areas from prescription burns.
Our little pilot project in our local patch inspired a much larger project involving some 50 citizen scientists in six nature parks over two years, focusing on the impact of prescription burning on orchid species.
My partner and I were invited to brief PCS fire-fighters on some of the biodiversity values in areas that were subject to prescription burning. Along with the ready availability of data from Canberra Nature Map, this has made it much easier to formally incorporate biodiversity protection into prescription burn planning.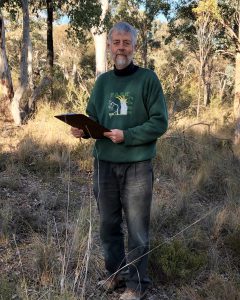 It has been an interesting journey, building trust between government officials and citizen scientists. Canberra Nature Map has proved an invaluable resource as a data repository that everyone can contribute to and which can be used in a wide range of projects. Government scientists are using it more and more as the information becomes increasingly comprehensive.
If you would like to share your citizen science story, or would to nominate a fellow ACSA member to be featured in our monthly member spotlight, please let us know!