By Kelly Ophel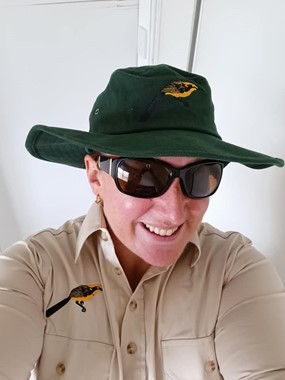 Birds.
I've got to be honest, they're what gets me up in the morning.
And I don't just mean, 'Oh, those noisy Kookas are at it again!' I mean they're my reason for being excited about life. Birds are what got me interested in science in the first place and my desire to get other people excited about birds is what brought me to Citizen Science.
I'm not good at conferences. I have a history of fan-girling presenters and asking them to autograph copies of textbooks they have written. I meet people and get so excited about the most recent presentation that I completely forget to introduce myself or exchange contact details. I can be pretty hopeless at improvised people-ing.
But some things are too important to miss, and when CitSciOz21 was announced as an online conference I knew I could make that work. And I was not disappointed.
CitSciOz21 gave me so much wonderful information and got me inspired by so many excellent projects. The power of Citizen Science to raise awareness, perform scientific monitoring, enhance education, support endangered species, and even discover new species is being recognised now around the world. I was not surprised to learn that Australia is currently ranked 4th globally as users of the iNaturalist app (check it out!), or that we're ranked 3rd globally as producers of research literature on Citizen Science. The breadth of applications currently in progress in Australia for Citizen Science projects is impressive and I would challenge anyone to get through a week without being invited to be part of one of our world-changing projects.
The conference presenters and facilitators brought with them such a wealth of knowledge and experience that I was enthralled every minute. Even presentations that were not about birds were holding my attention and inspiring me to schedule more time each week to volunteering on Citizen Science projects.
But what inspired and encouraged me most of all was the shared understanding that science problems are ultimately people problems, and the key role of Citizen Science is to turn scientific endeavours into community-building exercises. Because the natural world is so intricately interconnected, many of the scientific questions we face are "wicked problems". Complex issues require creative solutions and the only way to create effective, multi-disciplinary approaches is to involve people from diverse backgrounds with a variety of skills and viewpoints that will add value to the project.
Inclusivity and Respect were acknowledged as important aspects of so many of the projects discussed. The importance of using a range of communication tools and involving the local community throughout any project was highlighted, and the conference presented a number of case studies showing innovative ways to do this with participants of all ages and interests. I highly recommend getting a copy of any of the conference papers and recordings that are made available.
CitSciOz21 had an inspiring message for every kind of attendee. Enthusiastic Citizen Scientists were congratulated for the contributions they are making to so many aspects of scientific research and motivated to continue their efforts. Aspiring and Early-Mid Career Researchers were encouraged to persevere with their good ideas and inspired by the experienced presenters and panellists who are keen to mentor them. Citizen Science Project Leaders were acknowledged for their innovation and hard work with projects to date and could draw strength from the knowledge that they are part of a global community who are all determined to help each other thrive. Senior Researchers and representations from institutions and industry could see the fruits of their efforts, support, and endorsements, and can be enthusiastic about their next project knowing that there are so many participants from all levels of engagement who are keen to be part of the next step.
I really hope everyone involved in CitSciOz21 comes away from the conference with the same sense of accomplishment and encouragement as I have, as well as the inspiration and motivation to make this next year as full of meaningful Citizen Science connection and communication as we can.
Oh, and birds, of course.
Kelly Ophel
#EverySpeciesMatters #KellysBirdingBonanza
www.facebook.com/KellysBirdingBonanza