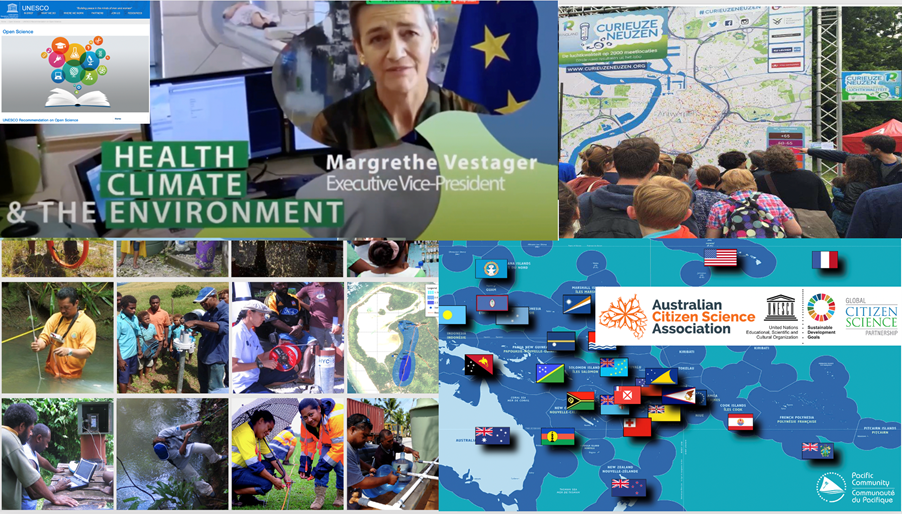 This Community of Practice is dedicated to increasing and enriching broader knowledge in Australia of international citizen science. The group will explore and share knowledge of what's happening across the world in citizen science. Through this work we will develop networks and collaborations across skills and research areas. If you are interested in learning more and makeing further advances together at the global level, please be invited to join this ACSA CoP by signing up here. Below, you find more information on the rationale of the CoP, how we work and how you can become engaged.
Background & rationale for the ACSA International CoP
We know of the great global initiatives that need and encourage citizen science, like the SDGs and the UNESCO Open Science Recommendation. We are also aware that citizen science globally is developing dramatically with many new projects emerging and in many directions and we would like to know more about what's happening to enrich our personal understanding and our national efforts.
There is now significant expertise within the global citizen science movement and this is an opportune time to build our knowledge and consider together how to maximise the opportunities of networks and collaboration to make further advances together.
Initial Terms of Reference of the ACSA International CoP
WHY
The creation of the CoP will allow a growing number of Australian practitioners to understand better the scope, practice and aspirations of international citizen science projects, initiatives and networks and so be able to discover opportunities for wider collaborations and to share the best of Australian citizen science with the global community.
Considering international examples of citizen science will provide a reflection of evolved Citizen Science practitioner views and positions from as broad a spectrum as possible and from across the globe.
Medium-term goals of the CoP (draft – to be developed by the CoP members):
To build a current and rich collective awareness of global citizen science community, projects and initiatives.
Create mechanisms for exploring and sharing that knowledge
Better understand and facilitate opportunities for collaboration between Australian citizen science and international citizen science communities and individuals.
WHO
The CoP brings together Australian citizen science practitioners from all regions and facets of citizen science who are interested in exploring and encouraging broader communication between citizen science communities and who want to better understand and facilitate opportunities for collaboration between citizen science communities at the global level.
WHAT
The activities of the CoP shall initially be a timescale of about two years, calling for input from experts on different topic and geographic areas at various points in time.
HOW
The structure for this "Community of Practice" is modeled after the WeObserve project, which defines the role of a CoP as consolidating practice-based expertise of citizen science, sharing information and resources, and working to further develop best practice guidelines and toolkits for citizen science.
Our next steps are:
Circulate the invitation to join the CoP as an observer or as a contributor as widely as possible through ACSA networks and social media
Establish regular meetings (once every 2 months?)
Hold two online workshops to co-create the objectives, ways of working and the action plan of the CoP (based on the successful We Observe approach for co-creating CoPs); and,
Make decisions together on the aims, objectives and plans of the CoP via a collaborative process among CoP members.

JOIN THE ACSA International CS COP!
Are you a Citizen Science practitioner and enthusiast? Then you are warmly invited to join this ACSA CoP! You can join as an observer or as a contributor.
It is important that you formally sign up via this form in order for us to comply with privacy regulation and to make sure you are included in all relevant communication and activities. 
We hope that you will join this exciting opportunity and help shape this CoP to the needs of its members!
Any questions and for further comments, please contact Libby Hepburn