By Michelle Neil
It's hard to believe that it has been nearly two months since the 2nd Australian Citizen Science Association Conference, #CitSciOz18 in Adelaide, South Australia. For six days I was constantly on the go – averaging around 3-4 hours of sleep per night.
#CitSciOz18 featured international keynote speakers Dr. Caren Cooper and Amy Robinson Sterling, along with Australia's Chief Scientist Dr. Alan Finkel and Eureka Prize for Innovation in Citizen Science 2017 co-recipient Dr. Emilie Ens.  The aim of the conference was to showcase best practice in citizen science and share project outcomes from across Australia and the world. Every continent of the world, except Antarctica was represented too. North America, South America, Asia, Europe and Africa were all there as well as our mates from "across the ditch", New Zealand. 
Opened by Australia's Chief Scientist, Dr Alan Finkel spoke about how a German migrant planted citizen science in Australian and why it worked. This was followed by plenaries, short talks, long talks, a podcast with The Wholesome Show, a public talk with Dr Caren Cooper and Amy Robinson Sterling (and little old me), radio interviews, live streaming talks to the ACSA Facebook page and twitter, watching Crowd and the Cloud episode, networking, poster session, chairing a session myself on the Friday afternoon, early morning (4am!) bat catching and tagging near Adelaide Zoo, plus post-conference tours to see Echidna CSI, #greatkoalacount, Wild Orchid Watch (#WOW), ReefWatchSA, breakfasts with new friends and old, lunches, dinners, great food, awesome people, lots of laughs and, of course, relaxing at the local wineries! 
In fact there were there were over 120 talks, posters and workshops falling within the conference themes of  #EngagingCitizens (20), #EmpowerWithData (19), #ShowcasingOutcomes (16), #Partnerships (15), #FieldProjects (14), #SocialResearch (8), #Education (6) and #Communication (4).  The conference was also mentioned more than 2000 times over the three conference days on Twitter as well as Instagram, Facebook and LinkedIn.  
 Where did it start? 
The planning process for #CitSciOz18 started well over a year ago. One of the first things the Conference Committee decided on was to try and make the conference as sustainable as possible. Plastic pens were out. Backpacks were out. People have their own backpacks and pens after all. Conference "swag"* as it is usually called was out. We even vetoed keep cups – who doesn't have a few of them lying around? 
Instead it was decided to do a bamboo pen and paper for the conference and, as an added bonus, a t-shirt for all our members. The t-shirts, designed by Ellie Downing and Amy Slocombe with input from the Conference Committee, were a huge hit.  Featuring the tools of citizen science these shirts will soon be available on the ACSA website for anyone to buy. Perhaps at our next conference we might make badges or patches delegates can sew on to the t-shirt? Let us know if we missed anything and perhaps that could be the first badge!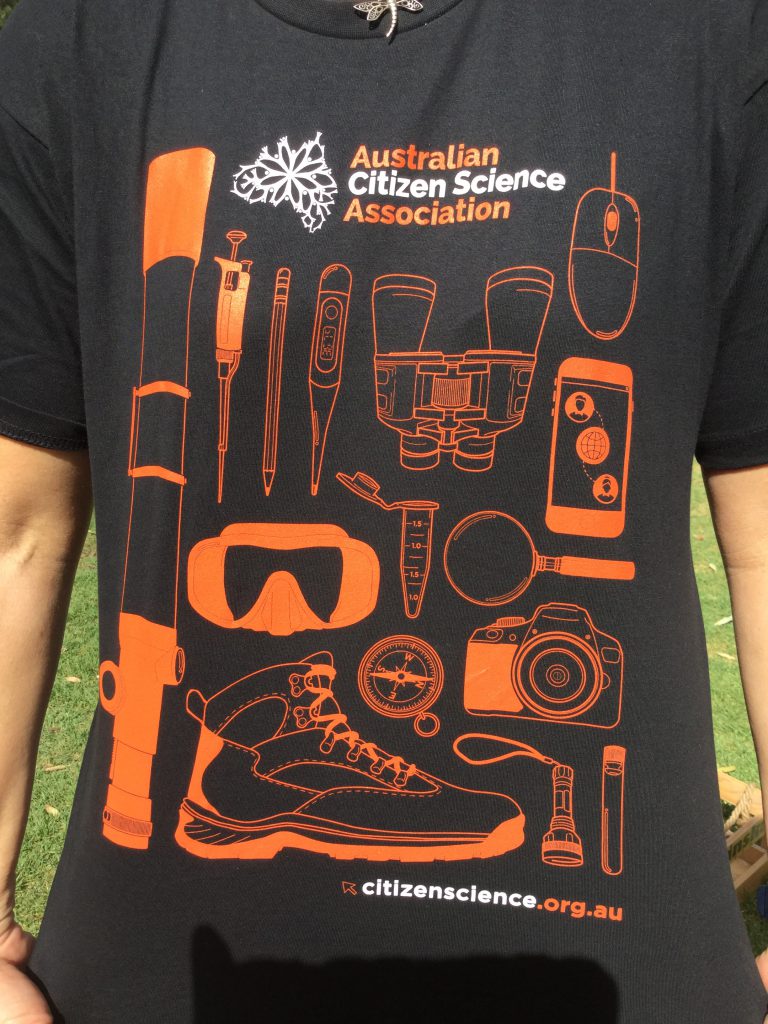 What's Next? 
Last week I received all of the conference talks via email – audio and video in one continuous stream from 4 different lecture spaces at the University of South Australia. It is probably the largest download my computer has ever had to do. My next job as the volunteer social media moderator for ACSA is to edit all of the 100+ hours of speeches into their individual talks and upload them on to the new ACSA YouTube channel for everyone to enjoy.  
In early May the Conference Committee will meet to go over the conference feedback, discuss what we could do better next time and also start the decision process for #CitSciOz20. We hope to make the next conference bigger and better. Want to tell us how we can do better or even what we did well? Drop us a line. Interested in going to #CitSciOz20? Sign up for the newsletter. We promise we don't spam! 
If you would like to read more about #CitSciOz18 grab a cuppa and put your feet up to read my colleague Jessie Oliver's fantastic blog here. I recommend it for a truly great read!  You can also look at the #CitSciOz18 Twitter Moments too! 
As one of our delegates, Phyll Bartram from Kangaroo Island Victor Harbour Dolphin Watch said:  
"Sounds like…Looks like…. Feels like….CitSciOz18! What a buzz!!!!!! 💛" 
*swag has another meaning in Australia as some of our overseas guests found out. In Australia it means bedroll or sleeping bag or to travel with one's personal belongings in a bundle. I have since found out it was originally an economic term which stood for Silver, Wine, Art and Gold.  I learn something new every day with #CitizenScience! 
Michelle Neil is the Australian Citizen Science Association's volunteer social media moderator. Having worked in analytical chemistry for over a decade Michelle finds herself in an interesting place – a scientist as well as a citizen scientist, with a passion for science communication. @michelle_neil