The inaugural Regional Session of UNEP Science Policy Business Forum for Asia and the Pacific (AP-SPBF) will be held on Tuesday 5 October, 2021.
With this event, the UNSPBF are giving the Global Citizen Science Partnership an unparalleled opportunity to put citizen science on the political map of the Asia Pacific Region. Members of all the citizen science associations around the world are encouraged to register and take part as delegates to gain experience of these meetings.  
Martin Brocklehurst (ECSA) has been working with CitSci Asia and ACSA to ensure that there is a strong citizen science presence at this meeting. Graham Durant, Director of Questacon, will represent the Global Citizen Science Association, including CitSci Asia and ACSA, in the High Level Session of this important political event.  Heidi Tate – Tangaroa Blue Foundation, acknowledged as one of the 18 most influential women in ocean conservation in the July 2018 edition of Ocean Geographic, will represent us in the Thematic Session on Marine Plastics.  
If you would like to attend, click the link below: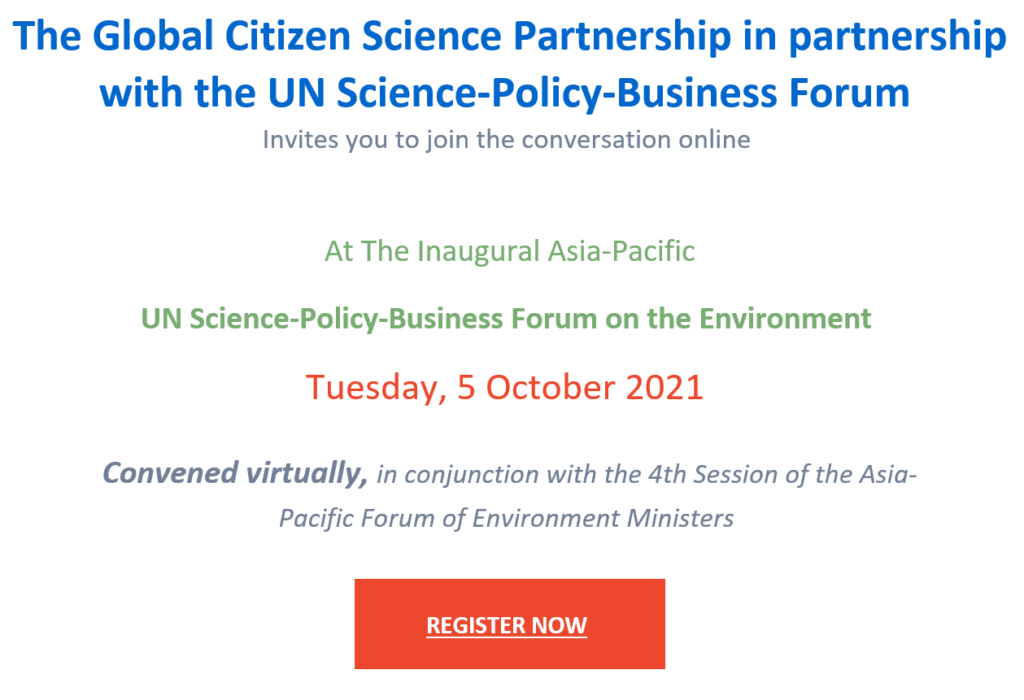 About the UN Science-Policy-Business Forum on the Environment
Launched in December 2017, the UN Science-Policy-Business Forum on the Environment (UN-SPBF) is a framework of thousands of influential partners, designed to catalyze a more dynamic multi-stakeholder, multi-sector interface between science, policy, business and society. The Forum promotes opportunities for green investment, driven by advances in science and technology, empowering policies and innovative financing. More information is available at: www.un-spbf.org